Miyaji Academy CF Club!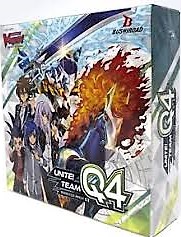 Detail:
Includes 84 cards (4 VR, 8 RRR, 12 RR, 17 R and 43 C) + 9 Parallel cards (4 SVR, 4 OR, 1 IMR).
Introduces the new "Vanguard Rare" (VR), "Special Vanguard Rare" (SVR), "Origin Rare" (OR) and "Image Ride Rare" (IMR).
Each display includes 1 VRs.
Includes 4 SCR Gift Markers with illustrations featuring the characters and hot-stamp signatures of those characters' voice actors.
Each display includes 16 packs.
Each pack includes 7 cards, two of them being R or greater.
Each display includes a Force, Accel and Protect Gift Marker, with one of them having a unit illustration.
Includes support for the Royal Paladin, Oracle Think Tank, Kagero and Nova Grappler clans.
The package illustration features Aichi Sendou, Toshiki Kai, Misaki Tokura, Kamui Katsuragi and King of Knights, Alfred.
Price : $60